8th IWG World Conference on Women & Sport
14 - 17 Nov 2022

Auckland, New Zealand & Online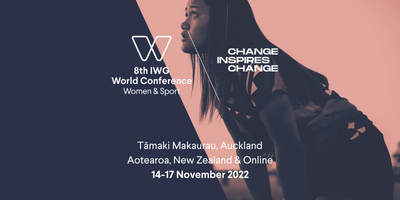 Nau mai, Haere mai
Welcome to the 8th IWG World Conference on Women & Sport
Tāmaki Makaurau, Aotearoa
Auckland, New Zealand & Online
14-17 November May 2022
The IWG World Conference on Women & Sport is the largest gathering in the world to advance gender equity and equality in sport, physical education and physical activity. It has taken place every four years since 1994, with the next edition being staged between 14-17 November 2022 in Tāmaki Makaurau Auckland, Aotearoa New Zealand.
Delivered by Women in Sport Aotearoa New Zealand, it will connect our community of action through an event uniquely designed to provide a virtual or a hybrid in-person and virtual experience, depending on your travel plans.
Registrations will re-open in early 2022 and wherever you are in the world, you can access the conference in ways that will work for you.
Our website will be regularly updated with key information to help guide your involvement.
Event Website: https://iwgwomenandsport.org/world-conference/